Children's Ministry
Nursery Care | Sunday School | Vacation Bible School | Baptism | Confirmation | Kids Page
Our vision of forming lifelong disciples of Jesus Christ is comprehensive. We want all in our parish community to learn together and worship together.
We have educational offerings for all ages at 9:30. During our 10:30 service we offer a Children's Chapel for children ages 3 to 3rd Grade. See below for details on all that we offer.
Nursery care and Children's Chapel run year round. Our 9:30 Education Hour for ALL AGES run during the program year (September to May, with a short break at Christmas).
Nursery Care
Your child is always WELCOME at St. George's! If you'd like to use our nursery, we serve infants and toddlers to age 3. We welcome children in Church and during worship services. If a child gets a little "excited about the sermon" (;-), please feel free to comfort them in the entry hall where we have benches and the service audio is broadcast for you to still hear. Anytime you bring your child to the Nursery, please:
Sign your child in at the Nursery entry door, noting any allergies and how to get in touch with you. Please be mindful of other little ones when dropping off or picking up.
If you have a diaper bag to leave with your child, make sure it is labeled, or if you leave a bottle or snack make sure the containers have your name
Pick up your child and sign out. You may pick up your child during the worship service and bring them into church during the service.
This summer the nursery is getting a new set of murals, custom created and painted by local artist Matt Burgy. Work will begin in August of 2017 and is scheduled to be finished by September.
The nursery is a wonderful place for both the volunteers and their small charges.
9:30 - 10:15
► Godly Play (Pre-K through 3rd Grade)
Godly Play is an innovative, Montesorri-based approach to teaching the story of scripture through a child's innate sense of play and creativity. The Godly Play Room is located in the lower level hall.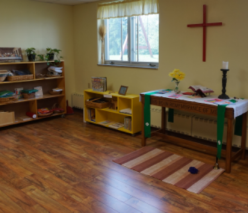 ► What's Up (4th & 5th Grade)
What's Up primes our older kids to use their Bibles, how to navigate such a big book, and how to see those familiar stories now in context. What's Up is held in the Education Wing in the lower level.
* Parents: please know that we require you to be on the church campus during children's programming for safety's sake. All are welcome to join one of our adult Bible studies at the same time (office or parish hall) or relax in our welcome lounge; coffee is available in the parish hall. Talk with Pam Pinchot or the Rev. Dr. Cal Lane about volunteer opportunities.
10:30 - 11:15
Children's Chapel

Our main worship service begins at 10:30 with everyone of all ages gathered together in the sanctuary. During the service children will be invited to Children's Chapel and process over to the Parish Hall. Led by Hannah Village our Children's Music Director and a rotation of volunteers, children will sing songs, read a Bible story, engage in a craft or activity, learn and say the Creed, and pray together. They will then process back and return to the church at the Peace.
For any questions about Children's Ministry please contact the Associate Rector, the Rev. Dr. Cal Lane , or call 434-1781 (ext 104).
Vacation Bible School, 2020
Rocky Railway! -- Monday-Friday, July 6-10, 9am-Noon
Online Registration opens in April!
Baptismal Preparation
The Sacrament of Baptism is offered several times throughout the year, on the Sunday on or after All Saints Day in November, the Sunday after Epiphany in January, during the Easter season and on the Day of Pentecost. It takes place within the context of the Holy Eucharist, usually at the 10:30 Sunday service. Private baptisms are done only in the case of emergency or special extenuating circumstances. Infants as well as adults may be candidates for Baptism. Preparation is required for adults and for the parents and godparents of infants. Please contact the Rev. Ben Phillips for more information, 937-434-1781x102 or
Confirmation
The rite of Confirmation is offered every other year when the parish is visited by our bishop. Carefully prepared for through several sessions of classes, the Church considers this rite "A Mature Affirmation of the Faith" spoken for infants or young children at their Baptism, and the beginning of a more intentional involvement in the Church. Confirmands who were baptized as adults re-affirm their own Baptismal Covenant and begin life in the congregation with new opportunities (such a the ability to serve on the Vestry). Check the date of the next Episcopal visitation at St. George's on the website of the Episcopal Diocese of Southern Ohio, Visitation schedule.
KIDS Page
A special web page just for kids, KID'S Page has coloring pages, stories and activities.