Who We Are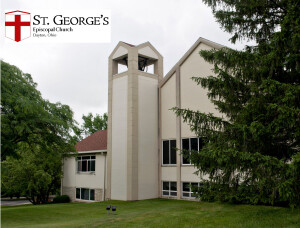 St. George's was founded in 1954 and moved to its current location in 1956. As growth in the Miami Valley in the 1950s began to expand south of Dayton, it was decided that starting a church in the Ketteirng/Centerville area was needed, and thus St. George's was founded. Our present campus was completed in 1964. See our Archives for more information and a Brief History of St. George's.
St. George's is a part of the Episcopal Church of the United States. 'Episcopal' means having bishops who are the leaders of the church and spiritual descendants of the apostles of Jesus Christ. The Episcopal Church is part of the world-wide Anglican Communion which includes those churches derived from the Church of England.
Many people ask, "What is the Episcopal Church?" Our church's roots are in the Protestant Reformation of the 1500s, but what makes the Anglican church unique is that it is both Catholic and Protestant. We are Protestant in content (theology, doctrine, etc) and yet Catholic in form (liturgy, ordained ministers, vestments, etc.). Our faith is shaped by the ideas of justification by faith alone, and authority of Scripture, and yet we retain the historic offices of bishop, presbyters (priests), and deacons. We worship in a style drawn deeply from the ancient Western Christian tradition, and celebrate Holy Communion every Sunday.
The Episcopal Church is divided into geographic regions, each region is called a diocese. Every diocese has a bishop who is the head of that diocese and has a Cathedral, where the bishop resides when not visiting churches in their diocese. St. George's is part of the Diocese of Southern Ohio, which includes Cincinnati, Columbus, Dayton, and extends east all the way to West Virginia. Our Bishop and Cathedral are located in Cincinnati.
....