Matthew for Everyone
January 5, 2022 12:00am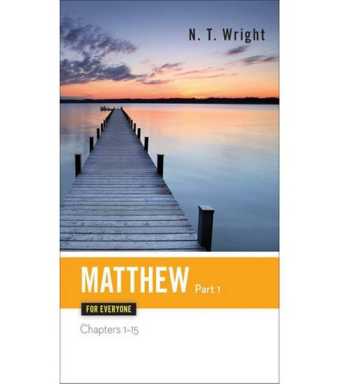 Click HERE to download a printable bookmark with the schedule.
It's now a long-standing tradition at St. George's to do a deep-dive into one book of scripture each spring. Our adult and youth bible studies (10am on Sundays) will be taking up Matthew this spring, starting January 16. We encourage folks to purchase Tom Wright's Matthew for Everyone. However, you don't have to buy the book to join the Rector's Bible Study or the Youth Bible Study. Either way, come and be blessed at 10am each Sunday this spring semester as we dive into Matthew's Gospel.
The primary "text" for this Bible study is the Gospel of Matthew. As always, every translation has strengths and weaknesses. We usually recommend the ESV, although the NIV and NRSV are also reliable. Other translations are probably ok, however we suggest that The Message be reserved for devotions (as it's a paraphrase, not a translation) and the KJV is probably best reserved for weddings and funerals.
N.T. Wright's Matthew for Everyone (Volume 1 and Volume 2 are available on Amazon) is an encouraged although optional resource. The schedule below walks us through Matthew's 28 chapters. The pages in parenthesis match closely with the scheduled sections of Matthew, however there may be a page or even a half a page more of reading in Wright. It will make sense if you opt to use Wright's commentary.
Regarding the organization of our study -- Matthew's Gospel has a major investment in situating Jesus in the context of Biblical Israel, and therefore the text is divisible into five sections along with a prologue and climax. This is an imitation of the Five Books of Moses (the Pentateuch, the first five books of the Old Testament).
Prologue: Jesus' Birth in context of Old Testament / Israel
Jan 16 How to Study Scripture; Intro to Matthew (Wright I: Introduction)
Jan 23 Matt 1 & 2 (Wright I: p1-15)
Book 1: Jesus gains Followers & the Sermon on the Mount
Jan 30 Matt 3 & 4 (Wright I: p16-33)
Feb 6 Matt 5:1-6:15 (Wright I: p34-59)
Feb 13 Matt 6:16-7:29 (Wright I: p60-80)
Book 2: Jesus works Miracles & Sends out the Twelve
Feb 20 Matt 8:1-9:26 (Wright I: p81-106)
Feb 27 Matt 9:27-10:42 (Wright I: p107-123)
Book 3: Jesus is confronted & gives Parables of the Kingdom
March 6 Matt 11:1-12:14 (Wright I: p124-140)
March 13 Matt 12:15-13:52 (Wright I: p141-177)
Book 4: Jesus revealed as Son of God & gives further Kingdom teaching
March 20 Matt 13:53-15:39 (Wright I: p178-206)
March 27 Matt 16:1-17:13 (Wright II: p1-18)
April 3 Matt 17:14-18:35 (Wright II: p14-40)
Book 5: Jesus warns of Judgment
April 10 Matt 19 & 20 (Wright II: p41-64)
April 17 EASTER DAY – No Study; Sabbath / Catch-Up
April 24 Matt 21:1-22:33 (Wright II: p65-91)
May 1 Matt 22:34-23:39 (Wright II: p92-110)
May 8 Matt 24 & 25 (Wright II: p111-143)
Climax: Jesus's Death & Resurrection
May 15 Matt 26:1-27:10 (Wright II: p144-175)
May 22 Matt 27:11-27:66 (Wright II: p176-196)
May 29 Matt 28 (Wright: II: p197-210)