Confirmation - Kickoff, Feb 9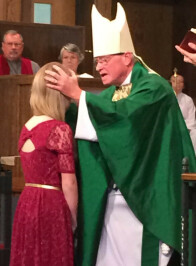 CONFIRMATION 2020 Confirmation is when one makes a mature affirmation of her or his baptism and enjoys prayer and laying on of hands from a bishop. The process leading to confirmation (Dec 6, 2020) is a fantastic opportunity for adults and High School youth. We welcome and encourage anyone -- including those who were confirmed in other churches / denominations and those who would like a refresher -- to join the confirmation process.
The process kicks off on Sunday Feb 9, 2020 at the Second Sunday Potluck Supper, 6pm. Bring a dish to share!
Anyone interested should email to enroll and plan on attending that supper. Our rector will give a short presentation and materials will be given out that evening.
The year-long, self-paced process involves reading a workbook and making visits to various ministries, programs, and committees that make our church run. It is very flexible, but immerses you deeper in the actual life of the church.
One also must commit to regular worship attendance and regular attendance at Sunday morning Christian Education at 9:30. "Regular" means it is the norm for you, not just occasional.
Moreover, there is very little distinction between adult confirmation and youth confirmation, save for a few small differences in the activities (for example, fill out your pledge card versus talk with your parents about your family's pledge card). The workbook is exactly the same.
Confirmands finish the experience with a much deeper sense of their own parish and ways they can worship, love, learn, and serve.
Confirmation itself happens on Sunday, Dec 6, 2020 at the 10:30 service. If you have gone through this self-paced process, the rector will present you to the bishop and the bishop will lay on hands and pray for you.